We watch lots of HGTV at our house. Julie especially likes watching Divine Design with Candice Olson. She's got some amazing designs. My favorite show is Color Correction, with that "designer" that used to be on Extreme Home Makeover, Constance Ramos. I enjoy it in much the same way that I would enjoy watching a train wreck. It's so bad that you just can't turn away, though at the same time you cringe every time she displays one of her designs. It helps me harken back to the time when I first heard Aaron Neville sing. I remember thinking, in all seriousness, "Oh that's nice. They let a retarded boy sing." (By the way, I worked on that sentence for quite a while. The truth is that you just can't say that in any way that's PC. So I just said it. Apologies.) So it is with Constance: "Oh that's nice. They let a color blind, tacky designer loose on HGTV."
She's a little OCD about her "palette" that she makes the poor saps who signed up to be on the show use. It's purple, light purple, dark purple, and then some God-awful bright orange/yellow color that she dreams up. She thinks that particle board is crown molding; spray paint is for glass knick-knacks; and "art" is putting some little thing in the middle of a board, putting it on the wall, and show-casing it with the tackiest bright brass accent lamp that you've ever seen. It is truly unbelievable. I am absolutely floored that this woman has a show on television. It certainly is all about her. Somehow she comes out with 37 different outfits in a 30 minute show. Unbelievable.
The first episode we saw is highlighted below. The first picture is the "before."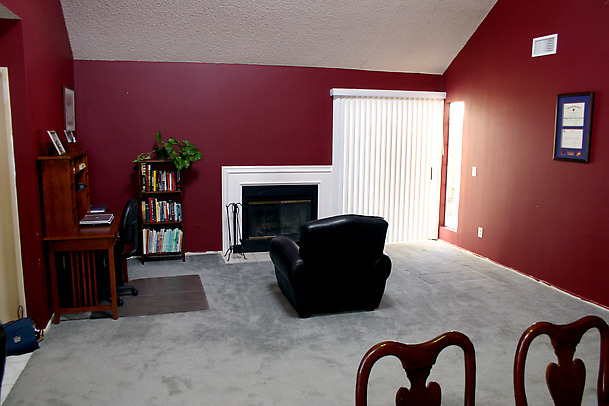 Notice the standard screen door above, with the standard vertical blinds (what else are you going to do with those doors, really?). Below is (seriously) the "after" shot. I think I honestly heard the "carpenter" say something like: "And, if you ever want to go outside, you just pull this board off of the velcro that's holding it up, and you just go outside!" !!!!?!?!? Yeah, and then you just throw the piece of board off to the side, ignore the cheesy rope lights hanging out, and make your way outside. But, hey, at least you've got "balance" on that wall and some "custom" art pieces. Unbelievable.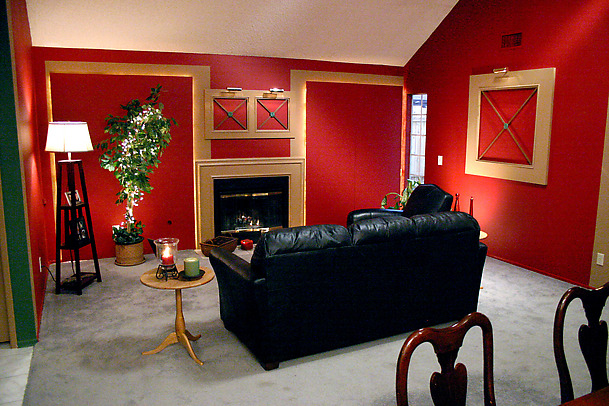 This is the before shot of the dining room.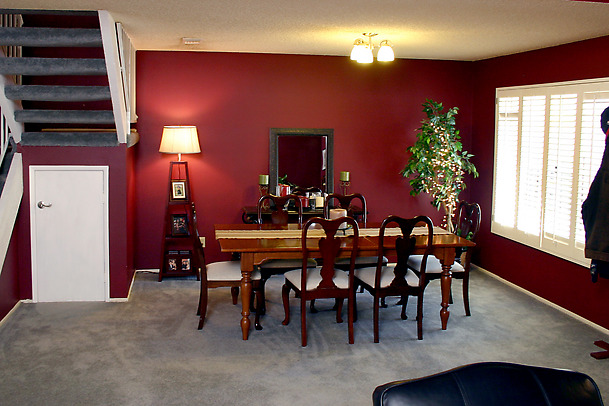 Notice the "crown moulding," the custom crap (there's just no other word for it) wrapping the stairs, and the very hip, stylish wallpaper in this lovely "after" shot.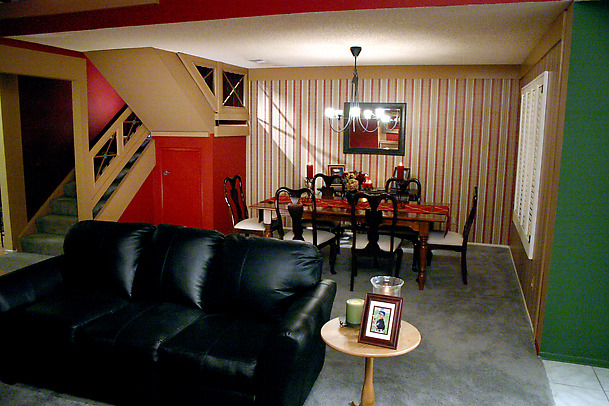 I leave you tonight with a close-up of the "custom" artwork on the wall. You should have seen the faces of these poor people when the big "reveal" happened. I hear the bank is demanding the loan be paid in full immediately because that house will never sell, even when the real estate market rebounds in 2060.