A few observations in the past week or so
1. This enterprising person has probably *the* best slogan I've seen in a while:
2. The Iranians are busy keeping their loyal subjects safe from fowl espionage: "Iran busts 'spy pigeons' near nuclear site"
Security forces in Natanz have arrested two suspected "spy pigeons" near Iran's controversial uranium enrichment facility, the reformist Etemad Melli newspaper reported on Monday.One of the pigeons was caught near a rose water production plant in the city of Kashan in Isfahan province, the report cited an unnamed informed source as saying, adding that some metal rings and invisible strings were attached to the bird.

"Early this month, a black pigeon was caught bearing a blue-coated metal ring, with invisible strings," the source was quoted as saying of the second pigeon.

The source gave no further description of the pigeons, neither their current status nor what their fate will be.

Natanz is home to Iran's heavily-bunkered underground uranium enrichment plant, which is not far from Kashan.

The activity is the focus of Iran's five-year standoff with the West, which that fears it aims to develop nuclear weapons.

Tehran vehemently denies the charge.

Last year, Iran issued a formal protest over the use of espionage by the United States to produce a key intelligence report on the country's controversial nuclear programme.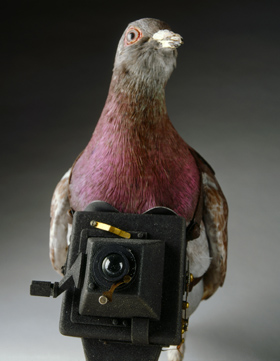 This comes after last July's squirrel crackdown:
Iranian intelligence operatives recently detained over a dozen squirrels found within the nation's borders, claiming the rodents were serving as spies for Western powers determined to undermine the Islamic Republic.

"In recent weeks, intelligence operatives have arrested 14 squirrels within Iran's borders," state-sponsored news agency IRNA reported. "The squirrels were carrying spy gear of foreign agencies, and were stopped before they could act, thanks to the alertness of our intelligence services."

Iranian police commander Esmaeil Ahmadi-Moqadam confirmed the report, saying that a number of squirrels had been caught bearing foreign spy gear within Iran's borders.